Fieldwork Map
Improving Southern Ocean fieldwork coordination
ICED has identified the coordination of Southern Ocean fieldwork as a major priority. A coordinated approach to fieldwork will help to realise the full potential of planned field effort and will allow targeting of future circumpolar research across all relevant disciplines including ecology, physics and biogeochemistry.
ICED is developing an interactive map to display information on Southern Ocean field activities. This initiative will provide a central focus for fieldwork planning and coordination activities in the Southern Ocean, across all disciplines.
Advances in fieldwork mapping
Initial attempts to map field efforts during IPY provided a useful start point to begin fieldwork coordination. We have now begun to develop these ideas further by making use of the latest virtual globe and data sharing technologies to include information entered via the web using a system of virtual forms for data entry that uploads directly to Google Earth.
Each project and long-term monitoring site will initially be represented by a placemark. The placemark will link to more detailed information about each project. We plan to develop this to display cruise tracks (planned and completed). The map will enable information to be brought together and visualised in an accessible way for observing, coordinating and planning future Southern Ocean fieldwork.
Viewing the fieldwork map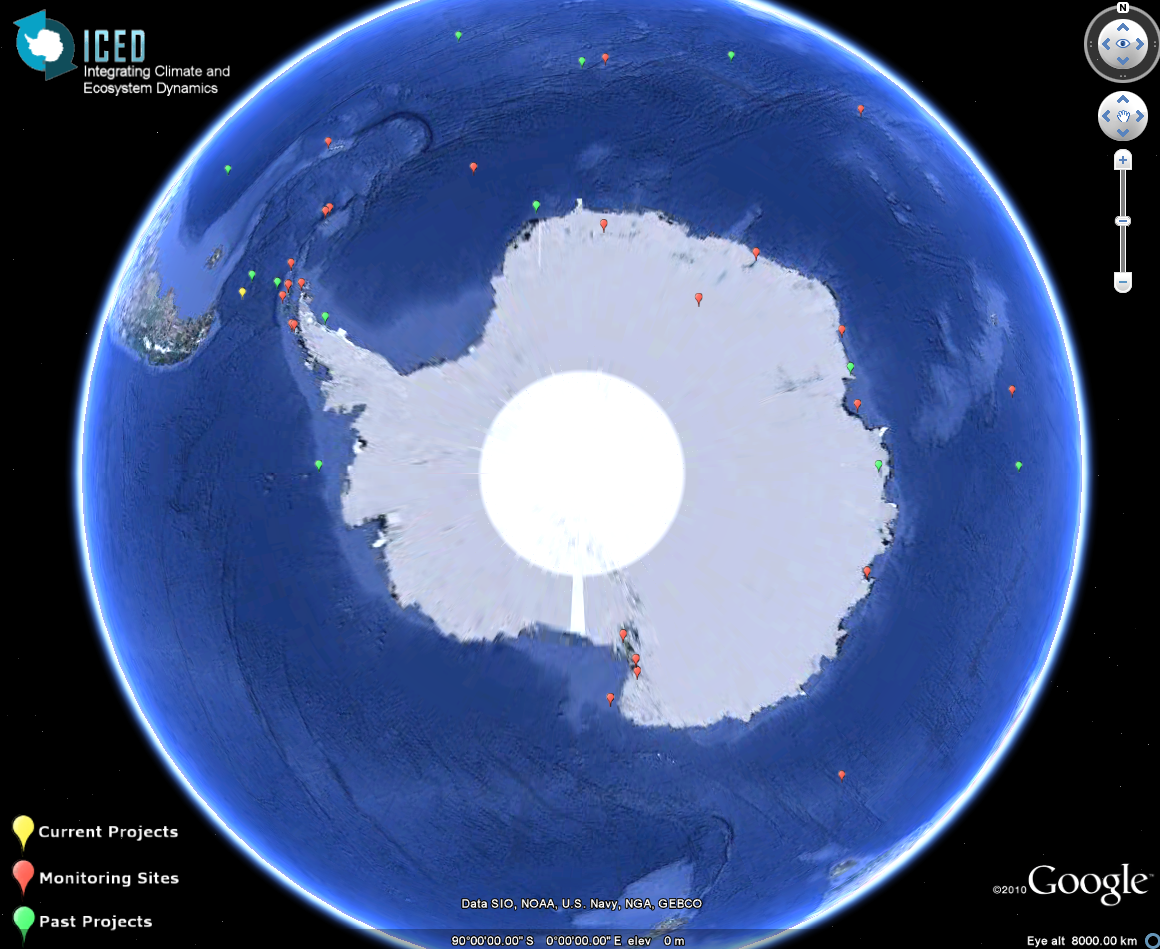 You can view an embedded version of the Google Earth map here.
You can also download a version of the map to view in Google Earth on your computer. Download Google Earth here. To view the current version of the ICED map

open this Google Earth file. We are now building on this with a view to fieldwork planning for ecosystem studies across the entire Southern Ocean. We also aim to develop an Arctic view as part of our European Flagship Project.
Once you have installed Google Earth on your computer, follow these simple instructions to display your project details on the map.
This project is currently linked with the Southern Ocean Observing System (SOOS). We are in the process of forming other programme links.
For more information about this project contact
ICED
.