Integrating Climate and Ecosystem Dynamics in the Southern Ocean
ICED is an international multidisciplinary programme launched in response to the increasing need to develop integrated circumpolar analyses of Southern Ocean climate and ecosystem dynamics.
ICED has been developed in conjunction with the Scientific Committee on Oceanic Research (SCOR) and the International Geosphere-Biosphere Programme (IGBP), is a regional programme of Future Earth's Integrated Marine Biosphere Research (IMBeR, formerly IGBP's IMBER programme), and is co-sponsored by SCAR (Scientific Committee on Antarctic Research).
The ICED vision is to develop a coordinated circumpolar approach to better understand climate interactions in the Southern Ocean, the implications for ecosystem dynamics, the impacts on biogeochemical cycles, and the development of sustainable management procedures.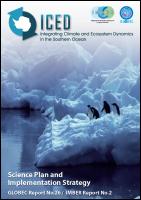 ICED Science
The
ICED Science Plan and Implementation Strategy
sets out an ambitious programme to address not only the significant scientific challenges of integrating Southern Ocean ecosystem, climate and biogeochemical research at a circumpolar level, but also the challenge of bringing together a multidisciplinary group of international scientists to ensure effective cooperation and communication in addressing the objectives of ICED.
The ICED Network
To become involved please complete our
online form
. We aim to improve Southern Ocean science integration, and to strengthen links with Arctic and non-polar scientists to understand the role of polar ecosystems in the Earth System. We encourage a wide range of scientists to join us.
For more information
contact ICED
.
What's New?
Marine ecosystem assessment for the Southern Ocean
The Marine Ecosystem Assessment of the Southern Ocean (MEASO) has produced several papers on key species and drivers to support scenarios, projections and governance in the MEASO Special Issue of Frontiers in Marine Science. Read the papers here. Read the MEASO summary for policy makers here.
ICED Krill Workshop 2021
ICED held a virtual workshop in May 2021 focused on using models to improve our understanding of Antarctic krill and their ecological role in the Southern Ocean. The report summarises initial findings for research priorities, data requirements, facilitation methods for integrating modelling, collaborations with the SCAR Krill Action Group (SKAG), and ideas for fostering Early Career Research networks and involvement within the ICED community. Read the report here.
Upcoming events
See Meetings & Workshops for information on upcoming events.