Activities
The ICED programme will be implemented through three major areas of activity (data synthesis, fieldwork coordination and modelling,) structured around the five
themes
, and will require close collaboration and multidisciplinary integration of knowledge from groups operating throughout the Southern Ocean. For further information refer to the Science Plan and Implementation Strategy.
Circumpolar data mining and synthesis
Despite extensive Southern Ocean research over almost a century, often only limited parts of more extensive datasets are currently available, and in a variety of formats including original unprocessed hardcopy form. ICED will coordinate circumpolar data mining and synthesis to create unique integrated databases for examining long-term, large-scale ecosystem functioning, variability and change. One good example of such an exercise, endorsed by ICED is the KRILLBASE project. This has compiled all available circumpolar datasets on abundance and population structure for krill and salps, to provide large scale and long-term insights. Other possibilities for similar types of data compilation are encouraged.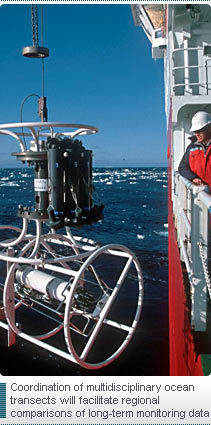 Circumpolar fieldwork
A major focus of ICED is the integrated planning and development of dedicated field efforts to develop a coordinated circumpolar approach. In addition to potential new field efforts, ICED will facilitate the coordination of existing studies, and develop regional comparisons to maximise the efficiency and scientific value of individual programmes.
Areas include:
1. Network of multidisciplinary ocean transects
2. Network of circumpolar remote instrumentation and monitoring
3. Physical and biological process studies in key regions
4. Circumpolar genetic studies of key species
During the International Polar Year there will be a number of ICED-IPY cruises with the aim of providing new insights into some of the mechanisms controlling biogeochemical cycles and ecosystem structure in the Southern Ocean. Further information on ICED-IPY cruises.

ICED is preparing a series of interactive maps to improve coordination of fieldwork activities. We are interested in all Southern Ocean ecosystem research being undertaken during the IPY. See ICED-IPY page (call for information section).

In November 2010 ICED scientists are convening a EUR-OCEANS Foresight workshop on change in polar ecosystems. Emphasis will be placed on strengthening and coordinating European research in this area. Further details are available here.
Circumpolar modelling
Improving our ability to understand and predict ecosystem responses to climate change and anthropogenic forcings is a major focus of ICED. In addition to data synthesis, and field efforts, this will be achieved through the development of existing circulation, biogeochemical and biological models to the circumpolar scale, and the development of integrated "end-to-end" circumpolar ecosystem models. ICED held a circumpolar foodweb modelling workshop in April 2008. The report is available here.