Goals & Objectives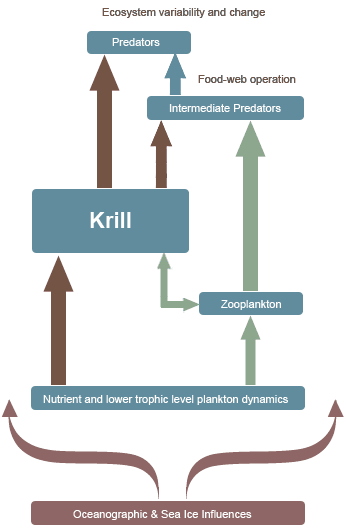 The long-term goal of ICED is to:
Develop a coordinated circumpolar approach to understand climate interactions in the Southern Ocean, the implications for ecosystem dynamics, the impacts on biogeochemical cycles and the development of management procedures for the sustainable exploitation of living resources.
To achieve this the ICED programme has three major scientific objectives:
1. To understand how climate processes affect the structure and dynamics of ecosystems in the Southern Ocean.
2. To understand how ecosystem structure and dynamics affect biogeochemical cycles in the Southern Ocean.
3. To determine how ecosystem structure and dynamics should be incorporated into management approaches to sustainable exploitation of Southern Ocean species.
To achieve its objectives, ICED research will be structured around five key themes and will be implemented through three major areas of activity. For further information expanding on the ICED goals and objectives the Science Plan and Implementation Strategy will be made available here towards the end of the year.