Krillbase
KRILLBASE is a data rescue and compilation project which aims to improve the availability of information on two of the Southern Ocean's most important zooplankton taxa: Antarctic krill (Euphausia superba) and salps (Family Salpidae).
The ICED vision is to expand from the regional survey scale to provide information on the circumpolar Southern Ocean ecosystem over long time scales. This is a challenge because each nation tends to work in its "own" narrow slice of Antarctica. However there are a growing number of initiatives to pool data at larger scales. Examples relevant to the Southern Ocean ecosystem include initiatives to pool data for seals and penguins. Circumpolar-scale syntheses of nutrient and physical data have also been done, while remote sensed datasets provide great coverage of phytoplankton. This leaves a big gap - we need circumpolar-scale views for zooplankton - the key link between primary production and predators.
The KRILLBASE project aims to fill this gap for two key zooplankters Euphausia superba (Antarctic krill) and salps. This project started in the early 2000s when its founders recognised that there were actually masses of data on these two taxa. However these data were scattered around in dusty archives, faded logbooks, old disks or databases. By putting all of these data together, we can learn things that individual surveys could never tell us.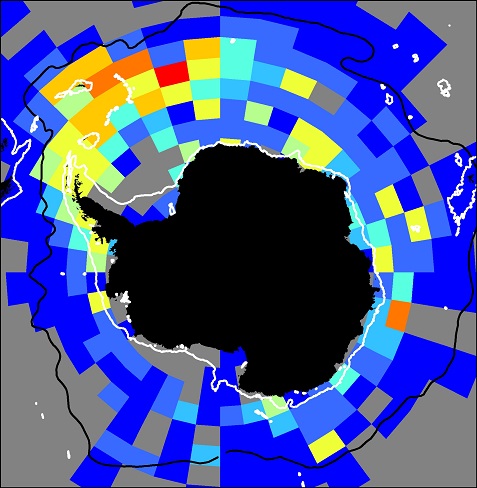 The KRILLBASE density database is a valuable resource for studying Southern Ocean ecosystems, including the circumpolar distribution of Antarctic krill as shown in this figure.
Compiling the data is a mammoth task which is progressing with the cooperation of scientists from the US, UK, Germany, Ukraine, Australia, South Africa, Japan, Poland, Spain, Norway and Chile and much of the data has been made freely available in the real spirit of Antarctic cooperation.
A project to update and publish KRILLBASE data on krill and salp density (number under 1m2 of sea surface) was completed in 2016. These data are now freely available via a dedicated website which also provides more information on the KRILLBASE project and maps of krill and salp distribution. Click here for the KRILLBASE website.